Providing Exterior Solutions
Roofing, Siding, Windows & Gutters
Storm Response & Recovery
Insurance Restoration Specialists & Reconstruction Experts.
Helping Property Owners Restore & Improve their Home & Asset from Storm to Finish Since 1998

Commercial / Multi-Family Properties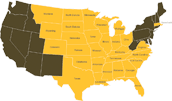 Storm Response Teams
Currently helping homeowners in:
Providing Exterior Solutions to Property Owners in 28 states for 14 years. Local response & service, backed by national support.