Providing Exterior Solutions
Roofing, Siding, Windows & Gutters
Storm Response & Recovery
Insurance Restoration Specialists & Reconstruction Experts.
Helping Property Owners Restore & Improve their Home & Asset from Storm to Finish Since 1998
Active Weather Alerts
Click here to check out Active Weather Alerts or enter your city and state for your local forecast provided by the National Oceanic Atmospheric Administration.
Commercial / Multi-Family Properties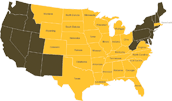 Storm Response Teams
Currently helping homeowners in:
Providing Exterior Solutions to Property Owners in 28 states for 14 years. Local response & service, backed by national support.